If you are a QuickBooks user, then you must have been in a phase where you struggle with the software. Being a software created by a man, this software to faces glitches like any other. Sometimes you might have a problem with the company file, microsoft.net framework, or many more. One of the errors from the list is QuickBooks not working.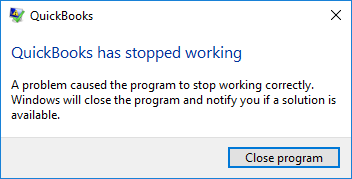 There are times when QuickBooks not responding or start crashing. This can happen due to many reasons. There can be a problem with your company file, an installation error, or damaged software. There are other reasons too that can make your software stop working. If you are irked with the same issue, then don't worry.
We are here with this blog to help you out with the same. Here, not only will we introduce you to the symptoms to look for and the reasons that trigger the problem, but also the ways in which you can fix it. Remember when this issue occurs, a pop-up appears on your screen with the message QuickBooks has stopped working.
Signs Of QuickBooks Not Working Error
Before understanding how it happens, it is important to understand how you can know that this issue is the one creating problems. Well, take notice of the following symptoms:
• A pop-up with the error message
• The computer automatically shuts down.
• Unable to open QuickBooks software
• QuickBooks freezes and stops responding to commands.
Causes Of QuickBooks Not Working Error
Once you know what QuickBooks not responding looks like, let us get into the core reasons behind this issue.
• If you have a long company file name.
• When you are using a corrupted or damaged QBWUSER.INI file
• In case your hard drive is corrupted or damaged.
• If you have a conflict in your functioning
• Incomplete or wrong installation can also cause the same problem.
• When you have a damaged Windows
• Virus or malware attack
Solutions For QuickBooks Not Working Error
You don't need to be a tech expert to fix this problem. All you need to do is try out the troubleshooting solutions mentioned below, and you might be able to resolve it without any assistance.
Solution 1: Use QuickBooks Install Diagnostic Tool
Unlike earlier times, you do not need to download QuickBooks Install Diagnostic Tool. Intuit introduced its QuickBooks Tool Hub, where all its major tools are all found under one roof.
• Firstly, run your browser and download QuickBooks Tool Hub.
• After that, go to the Downloads and look for the QuickBooksToolHub.exe and open it.
• Once the window is up, follow the instructions on your screen and install the application.
• Do not forget to agree to the terms and conditions. Hit Run, and it's done.
• Now, on the home screen, look for the Installation Issues tab and click on that.
• Thereafter, on this window, you will find the QuickBooks Install Diagnostic Tool option.
• Click on the same and initiate the scan.
• Eventually, if you find any error, select the fix button. This might do the job for you.
Solution 2: Fix Hard Drive
As we stated before, there is a possibility that the error exists in your hard drive. Here is how you can fix the affected areas:
• From your keyboard, press Windows+E simultaneously.
• This command will open the Windows File Manager.
• Thereafter, right-click on Local Drive C to open the drop-down menu.
• Next, hit Properties, which is usually the last option in the available options.
• Once the window is up, head to Tools from the menu bar.
• Here, locate the Check now button to look at the drive for errors.
• After that, the software will take you to a new prompt window.
• Here, make sure to tick-mark Scan for and attempt recovery of bad sectors and automatically fix file system error options.
• Finally, click on the Start button, and the application will do the necessary for you.
Solution 3: Change QBWUSER.INI File Name
The length of your QBWUSER.INI file should be nothing more than 64 characters. In case it is longer than that, then this can be a reason behind QuickBooks not working. This is how you can fix it:
• Go to Windows File Manager from the Start menu of your desktop or simply by pressing the Windows+E keys.
• On this window, locate \Users\User Name \AppData\Local\ Intuit\QuickBooks.
• Thereafter, you need to find the QBWUSER.INI file.
• In case you fail to search the file, you can go to Organize option in the upper left corner and then head to Folder and Search Options.
• Afterward, choose the View option from the menu bar, and a list of Advanced Settings will appear before you.
• Here, click on Hidden Files and Folders and check the mark Show Hidden Files, Folders, or Drives.
• Hit the Apply button, and you will see the file in the list.
• Furthermore, right-click on the file icon and choose Rename.
• You now need to insert .OLD by the end of the name of the file.
Solution 4: Temporarily Disable Your Anti-Virus
To know if your anti-virus is creating a hindrance, try to disable the anti-virus software. To do so, you need to reboot your system first.
• Initially, go to the Start menu and click on the power button.
• Here, instead of hitting shut down, select Restart.
• This can take a few minutes to shut down and power back on.
• Once the PC is up and ready again, look for the upper arrow on the right side of the taskbar.
• Click on that and then select your anti-virus.
• Eventually, a small list of items will appear on your screen.
• From here, select the Disable for 1-hour options.
Now, you have 1 hour to open the software and check if the issue of QuickBooks not responding is resolved. You can choose any other time limit too.
Solution 5: Run QuickBooks Clean Install Utility
If you are still unable to fix the problem, uninstall and reinstall the QuickBooks application with the help of the clean install utility tool.
Uninstallation
• To remove the current QuickBooks Program, open the run command with Ctrl+R.
• Here, enter appwiz.cpl and hit the Enter key.
• Now, go to Programs and Features and right-click on Uninstall.
• Confirm the process by following the instructions and selecting the Remove option.
• To finish the process, click on Finish.
Reinstallation
• Once you uninstall the application, go to Intuit's website and download it again.
• After it is complete, close the window and open QuickBooks Tool Hub.
• Here, go to the Installation Issues and select Clean Install Tool.
• Now, it is time to select your QuickBooks version and Product version year.
• Finally, hit continue.
Summing Up
There could be several reasons behind QuickBooks not working. Most users of this software face this program at least once. If you are one of them, then this is the correct place for you to be at. Here, we discussed why the error occurs, what the signs are to look out for, and how anyone can fix the problem. You must have read the step-by-step ABC for the same.
In case you have more doubts, you can contact us directly. Dial QuickBooks helpline number or share your queries via email.