Without any doubt, QuickBooks is the application that helps businesses operate faster and easily. This accounting software is just what you need to manage all your financial activities under a single roof. You can keep a check of your expenses, generate balance sheets, create payroll, and perform many much such tasks. However, it is true that users of this software do not always get happy results. At times, the software starts glitching and this leads to its many error codes. Here, we are going to discuss one of them, i.e., QuickBooks error 6094.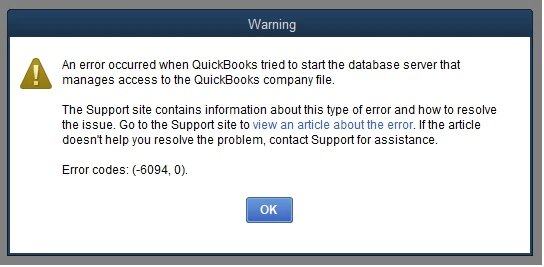 This is an issue with the application that occurs due to any firewall or anti-virus interference. When the firewall reads your QuickBooks files and think of them as a potential risk, it blocks them. This eventually restricts you to access the various files and therefore you face error 6094.
This post is completely dedicated to the same. Firstly, we will discuss the core reasons behind it. Thereafter, we will take you through the various troubleshoots that you can perform to fix it.
Core Reasons Behind QuickBooks Error 6094
The error code message appears on a prompt window as, 'An error occured when QuickBooks tried to start the database server that manages access to the QuickBooks company file. Error codes: (-6094, 0).'
Let us understand the reason behind the same.
• When you update a security program, this can cause error 6098.
• If an anti-virus does not let QuickBooks read the database server
• Also, when you run QuickBooks Database Server Manager
One of these reasons can disrupt your QuickBooks functioning with QuickBooks Error 6094.
Also Read – QuickBooks Not Responding
Fix QuickBooks Error 6094
Since an anti-virus is the major reason behind this error code, we will, initially, provide you with the ways to fix various antiviruses.
FIX 1: For PC Tools Internet Security
Restore The Infections That Are Quarantined
You need to restore your QuickBooks Files that PC Tools Internet Security has hidden after detecting it as a threat.
• In order to restore the same, you need to head to the anti-virus first.
• Now that you are on the window, look for Settings (Gear icon).
• Thereafter, look for the Quarantine option from the long list of options.
• This is where you need to select the files that you need back in your system and finally hit Restore.
• Confirm your action by clicking on Yes and then OK.
Make QuickBooks Directory An Exception
If the firewall has read the files once as a threat, it is possible for that to happen again and create QuickBooks Error 6094.
• From the application, go to Settings again.
• Here, you are looking for Global Action List. Click on that once you find it.
• Furthermore, hit the Add New option and select the files you want to mark as an exception.
• Lastly, choose OK and save the changes.
FIX 2: For AVG Anti-Virus
Prevent QuickBooks Directory From Scanning
Why not take the action before any damage. It is better to prevent them from scanning then letting it end up as a threat.
• Initially, run the AVG Anti-Virus application.
• Here, you need to click twice on the Resident Shield and you will find list of choices.
• After that, select Manage Exception and then go to Add Path.
• Next, in the given space, you need to put in the path to your QuickBooks File Folder.
• Finally, to save the edits, click on OK.
Restore Quarantined QuickBooks File
Even though you have already set the files as exception, there is a chance that the anti-virus was faster than you. It might have already put some files to quarantine and you need to check for the same.
• Again, you need to open the AVG Anti-Virus to perform this step.
• When you are there, look for History tab and click on the same.
• Next, from the options available, go to Virus Vault and see if any of your QuickBooks file is in the list.
• If so, then select the files that you want to restore and hit the Restore button.
• Close the tab and run QuickBooks Desktop again.
Look For Renames Files
At times, AVG Anti-Virus simply renames your restored files and this is why you are unable to access it.
• To check for the same, you first need to locate the QuickBooks folder.
• Now, that you are on the folder, you need to look for any such file that's name has been changed. For instance, QBDBMGRN.EXE changed to QBDBMGRN_AVG_RESTORED.
• In case, you find any such file, then you have to change its name back to the original one.
• Right-click on the file and select Rename option to do so.
• Lastly, hit Enter to save the changes.
FIX 3: For SpyHunter Malware Software
To remove QuickBooks File from the list of Blocked Files, you need to follow the steps mentioned below:
• To initiate the process, you first need to run the SpyHunter Malware Software on your PC.
• Here, look for System Guard and click on that.
• Next, go to User Added option and locate the QuickBooks Files.
• Thereafter, you need to switch these files status to allow.
• Furthermore, make sure to verify PUP and change the status of any file under the block list as allow.
FIX 4: Repair The Desktop Application Of QuickBooks
If making changes to your anti-virus does not resolve QuickBooks Error 6094, then there might be a problem in QuickBooks Desktop itself.
• Firstly, it is important to close every application running in the background. This is because you never know which application is creating the interference.
• The best way to do so is by restart your system.
• Also, ensure that you have backed up your company file.
• Now, press the Windows and the R letter key together to open the Run command box.
• Here, type in Control Panel and click on OK to open the window on your screen.
• Thereafter, go to Programs and then to Programs and Features.
• Next, you need to look for the QuickBooks and hit the Uninstall/Change button.
• After that, on the prompt tab, mark Repair and then select Continue.
• Once the Repair process is over, restart your system.
This might help you going back to QuickBooks and resuming your work.
Summing Up
QuickBooks has been developed by a human being. Therefore, it is quite obvious for the application to break down at times and show issues similar to QuickBooks error 6094. This is what we are here for. Here we provide you with the solutions to all QuickBooks error that you encounter.