Wondering how to upgrade QuickBooks Desktop to 2021 because QuickBooks 2019 Discontinued? This post will help you to more about the QuickBooks upgrades and procedures to get the job done. QuickBooks is one of the most powerful accounting programs that offers many amazing features to users.
Besides, upgrading an older version of the QuickBooks Desktop enables you to harvest the whole new accounting features. Most users confuse QuickBooks upgrades with an update process. However, the two are completely different. What is QuickBooks upgrade and how can you upgrade QuickBooks Desktop to 2021 are all described in this blog post. Let's discuss this in detail.  
What Is upgrade QuickBooks Desktop to 2021? 
Upgrading QuickBooks is equivalent to purchasing a whole new piece of software. You need to pay for Upgrade QuickBooks Desktop to 2021. By upgrading your QuickBooks application, you can access new features from within the program. On upgrading to QuickBooks 2021 version, you can access its features, such as automated statements, customized payment receipts, improved bank feeds and several others.
Read More – QuickBooks Unrecoverable Error
What's New in QuickBooks Desktop 2021? 
QuickBooks Desktop 2021 introduced several new and improved features that can help you get paid faster and automate your process to manage your business accounting more efficiently. Below is the list of the newly added features in the QuickBooks Desktop 2021 release: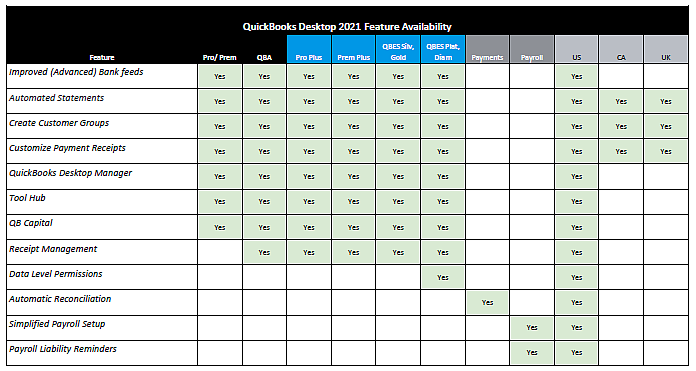 Automated Statements 
You can send payment reminders to the customers and get paid faster. You can schedule statements for your customers to remind them that they have invoices to pay. When you can create automated payment reminders for invoices and statements, you don't need to chase after the payments. You can create automated payment reminders with a few simple steps.  
Create Data Level Permissions 
This feature in QuickBooks Enterprise 21.0 enables the admin user in QuickBooks to create users and grant them different levels of access permissions at a record level for customers and vendors. With restricted access to the data, you can have better control over the shared information.  
Customized Payment Receipts 
QuickBooks Desktop 2021 lets you create custom templates for forms like sales receipts, invoices, estimates and purchase orders. While customizing your forms, you can control their appearance and what information to include in them.  
Receipts Management
Receipt management is an entirely new feature in QuickBooks that makes recording your expense receipts easier. Besides, you can enable your users to upload their expense receipts to QuickBooks via mobile application or directly from your PC.  
Create Customer Groups 
This feature in QuickBooks Desktop 2021 enables you to find and categorize all the customers based on a certain criterion, such as customer type, location, customer's status and several others. Based on these criteria, you can create customer groups. Once created, it becomes easier for you to create automated statements, send payment reminders, or create a mailing list for a specific customer group. It can save your time and effort in sending these to individual customers.  
Improved Bank Feeds
The banking feature in QuickBooks Desktop lets users add and edit bank deposits, sync and reconcile their bank accounts and manage their transactions efficiently. QuickBooks Desktop 2021 offers improved bank feeds wherein, you can review your bank transactions and match them to the existing ones in your books. Furthermore, you can add new transactions in no time.  
Procedure to Upgrade QuickBooks Desktop to 2021 
Now that you know the features you can access by Upgrade QuickBooks Desktop to 2021 version, here are the steps. Before updating the QuickBooks application, you need to make sure that all your existing data is backed up. It will prevent your crucial accounting data from any loss or disruption. After taking the backup of your data, you can follow the given instructions to Upgrade QuickBooks Desktop to 2021.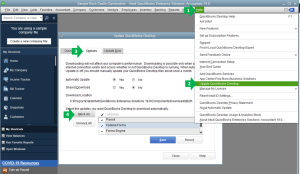 1: Creating A Backup of Your Data
To create a backup of your data, follow the below-given steps:
In the first place, launch the current version of QuickBooks.
Next, log into your company file as an administrator.
Moving ahead, go to the File menu and navigate to the Backup Company option.
When in the Backup Company tab, you need to select the Create Local Backup option.
Your previous action will open the Create Backup window. Here, you will see the option to choose the location to store your company file backup. Select the backup storage option and click Next.
In Create Backup Window, you may click the Options button to make changes in your current backup settings.
In the end, QuickBooks will start preparing your backup. Once it is saved, close the Backup window. 
2: Upgrade QuickBooks Desktop to 2021
Now that the data is backed up, you can upgrade your company file to QuickBooks 2021. When you try to open your company file in QuickBooks 2021, it will prompt you to upgrade the file to the 2021 version.  
Caution: Once you upgrade the QuickBooks company file to the 2021 version, you may not be able to access it through your older version of the program. Also, make sure that all the users are logged out before you proceed any further with the upgrade process.
Open QuickBooks 2021 on your computer to start the upgrade procedure.
If the company file is not open, click File menu >> click Open or Restore Company button.
Next, select the Open a company file option and then click Next.
If you have a backup company file, you need to select Restore a backup copy.
Moving ahead, click on the Local backup option and it will open a Window wherein, you can browse your computer for the company file.
Once found, click on the file to select it and then click the Open button from the window to open the file you want to upgrade.
If you're having difficulty finding your company file through the application, you can try to locate the company file manually.
After selecting your company file, log into it with the Admin user credentials.  
Caution: Before upgrading the file, QuickBooks creates a backup of your current version of
the company file automatically. If you want to change the default location of the backup, changing this default location option can help.
After that, click Update Now option and it will initiate the upgrade process for your company file. Here, you will see a progress bar on the window for the upgrade progress.
Once the upgrade process is completed, you will see a prompt window.
Click the Done button to finish the upgrade procedure.  
Final Words!
This post guides your way through the upgrade process of Upgrade QuickBooks Desktop to 2021 version of the program. In case of having any technical unease, you can reach out to our experts and get prompt assistance in upgrading QuickBooks smoothly.